By Susanne Tabata
---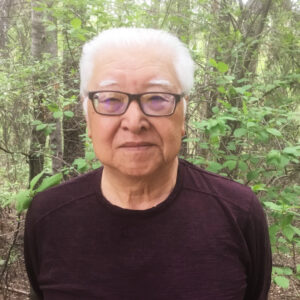 The JC Survivors Health and Wellness Fund jcwellness.org. and BC Redress bcredress.ca were given a big gift from Takashi Ohki, whose statistical analysis of the demographics of Japanese Canadian survivors has illuminated the work being done by both efforts.  BC Redress Project has worked overtime to produce the most recent submission to the BC Government on Seniors Health and Wellness – July 23, 2021 – which includes the Ohki research.  More immediately, Eiko Eby & the Project Office of the Survivors Fund is using Ohki's Report (2021) to look for and locate survivors in Canada, especially the our most senior and frail elders.
Mr. Ohki is an active community member in Edmonton, where both he and his wife Sanae are well known for their volunteer work.  We caught up with Takashi-san to ask him a bit more about his work and life.  
In his own words
WHY DID YOU DO THIS RESEARCH?  
When I was NAJC Treasurer (2009 to 2012), I wanted to find out how large was the Japanese Canadian community. I wrote a paper, "Demographic Characteristics of Japanese Canadians in 2016 from 2016 Census of Population," in November 2017. For the last two years or so, I have been translating major articles on the NAJC website into Japanese and became familiar with the BC redress campaign. I soon realized that I could estimate the number of surviving Japanese Canadians from the 2016 Census of Population and thought that an estimate would be useful for the BC redress campaign.
WHAT WAS YOUR FORMER LINE OF WORK?
1964 to 1969 — Graduate student (we lived on scholarship)
1969 to 1975 — Assistant professor of economics, the University of Lethbridge
1975 to 1995 — Economist, manager, futurist (a person developing future scenarios for government and private companies)
1995 to 2010 — Economic and business consultant with three partners
WHEN DID YOU IMMIGRATE FROM JAPAN?
 We became permanent residents in 1969 and then Canadian citizens in 1976.
HOW ARE YOU AND SANAE INVOLVED IN THE EDMONTON COMMUNITY?   HOW LONG HAVE YOU BEEN MARRIED?  DO YOU HAVE CHILDREN?
Sanae and I were both born in Tokyo in 1941. I got a scholarship from the University of British Columbia and came to Vancouver in 1964 to study economics at graduate school. Sanae came to UBC in 1965 to study mathematics at graduate school. We got married in Vancouver in 1965. The first person I met in Vancouver was a Japanese Canadian, a nephew of Gordon Kadota, who came to a pier at Vancouver Port to pick me up from a freighter.  We made many Japanese Canadian friends in Vancouver. In 1969 when we moved to Lethbridge for me to teach at the University of Lethbridge, a local Japanese Canadian community set up a welcoming party for us. We were so surprised to see close to 100 Japanese Canadians at the party held at a Buddhist church. Again we made many Japanese Canadian friends there. In 1975 when we moved to Edmonton for me to work for the Government of Alberta, we immediately joined the Edmonton Japanese Canadian Association. Both of us eventually became EJCA president. So, we have been married for 56 years. We have two sons and two grandchildren. 
WHAT WOULD YOU LIKE TO SEE DONE TO SUPPORT SENIORS IN THE JAPANESE CANADIAN COMMUNITY?
Some events to which we invite surviving senior (free) and their family members (pay fees) so that they can be formally informed that the Government of British Columbia apologized for their wrong doing; such as lunch gathering, short day trips, visiting them at senior homes with a gift. The idea is to make the event memorable to place one period on the history of Japanese Canadians.
WHAT ARE YOUR FUTURE PLANS?
For the last two years or so, I have been translating papers and books on history of Japanese Canadians from English to Japanese and Japanese to English. At present, I am translating Ann Sunahara, "The Politics of Racism." Into Japanese with my Japanese friend and historian. I think I can continue my translation work for a while.
WHERE DO YOU LIKE TO SPEND YOUR HOLIDAY TIME?
Southern Europe – southern Italy, France, Spain, Portugal, Greece and Croatia – and rural Japan.
It remains to be seen whether the Mr. Ohki will be boarding a plane anytime soon to continue his love of travel. What we know for now, is that his research is looking to have a positive impact on 1000s of Japanese Canadian survivors.
And for that, Mr. Ohki, we THANK YOU. どうもありがとうございます。